Many Okanagan communities grieved the loss of at least one citizen during the Second World War. According to the Okanagan Honour Roll, 50 people died in Canada or Europe between June 1 and September 31, 1944. They were between the ages of 19 and 39, served in all three services, held a variety of ranks, and were from eight communities from Armstrong to Penticton. Most died in combat and some in training. Let's look at a few of them.
Richard Godfrey EAST, son of Alfred E. and Blanche East of Keremeos, served as an Able Seaman in the Royal Canadian Naval Volunteer Reserve [V36333]. He was assigned to H.M.C.S Regina (K 234) Flower-class corvette built at Sorel, PQ, in 1941. This ship had escorted convoys between New York and Halifax and protected landing ships during Operation Torch off Sicily in November 1942. H.M.C.S Regina went to Halifax for refit over the winter of 1943-44, then joined Escort Group C1 of the Mid-Ocean Escort Force hunting U-boats. Regina then escorted Allied ships landing troops in Normandy in June 1944 through the English Channel. By August 1944, under the command of Temporary/Lieutenant Jack W. Radford, RCNR, H.M.C.S Regina was the sole escort for Convoy EBC-66 off Wales when a merchant ship suffered a heavy explosion, apparently from a sea mine. Regina slowed to supervise the recovery of survivors by another ship when a GNAT, a German sound-tracking torpedo, from U-667 caused a tall explosion of water and debris that sank Regina in a few seconds. Out of a crew of 85 officers and men, 30 men died, including Richard Godfrey East. He was 20 years old at the time.
[Far Distant Ships, J. Schull, 1961; pgs 329, 330]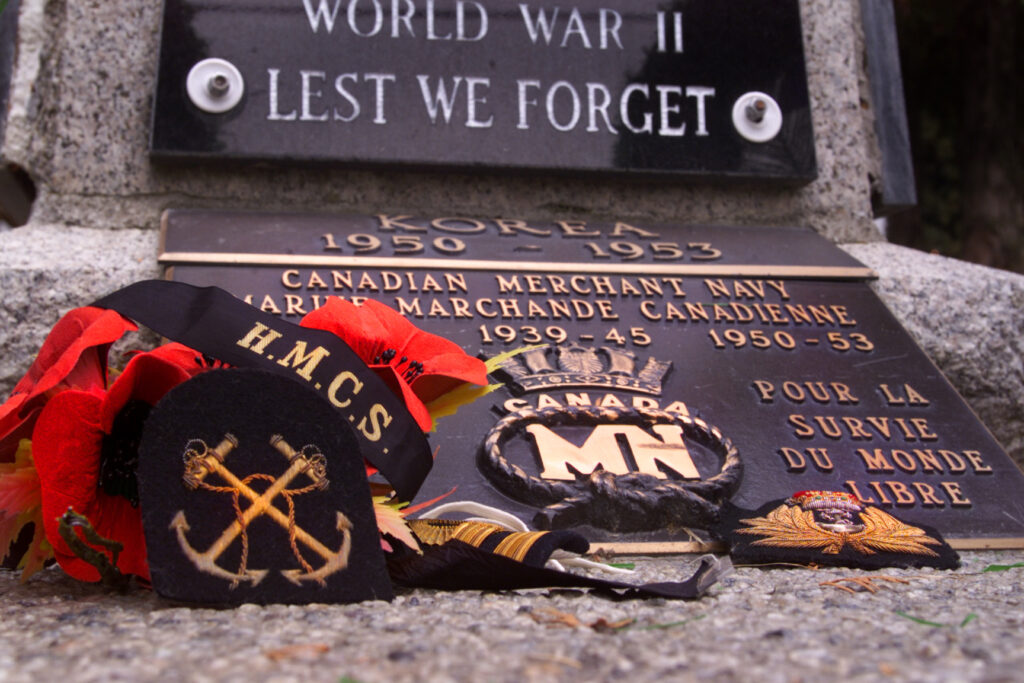 Herbert Arthur MURFITT was 30 years old when he enlisted at Kelowna in February 1940 and was sent to the 1st Battalion, The Canadian Scottish Regiment (Princess Mary's) on Vancouver Island [K57271]. This English-born single man had blue eyes and light brown hair and worked as a Sawmill Worker at the Summerland Lumber Mills. His mother, Sarah, lived in Penticton and his father, Charles William Murfitt lived in Burbank, CA. The unit went to the UK in August 1941 to join the 7th Canadian Infantry Brigade in the 3rd Canadian Infantry Division led by Kelowna's Major-General R.F.L. Keller. After years of training, they landed on Juno Beach in Normandy on June 6, 1944, and fought their way inland several miles. Surprised German armoured forces were moving to counter-attack and find a gap they could break through to sweep the Allies off their beachhead when they were at their weakest. Corporal Herbert Murfitt did his part as the Canadian Scottish plugged a gap west of Caen on D-Day+2 June 8/9. He was buried at the Bretteville-sur-Laize Canadian War Cemetery, south of Caen, France.
[Ready for the Fray, R. Roy, 1958; pgs 230-241]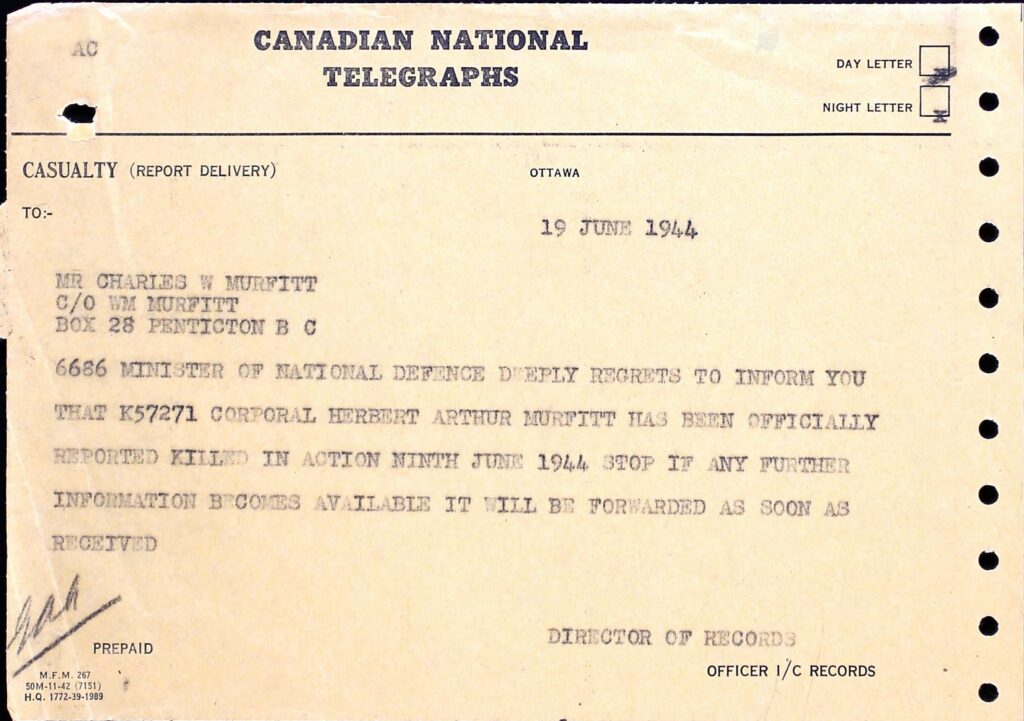 David Shirley SMITH was born September 9, 1920, and raised in Armstrong, B.C., by Cyril H. and Ruth Smith. He enlisted as a Trooper [K1647] with the 5th Canadian Motorcycle Regiment (British Columbia Dragoons) on July 22, 1940, at Vernon. David was a single man working as a mechanics helper at Smith & Sons Garage for three years. He had two older brothers in uniform in the Canadian Army. The 5th became the 9th Canadian Armoured Regiment (BCD) and departed Halifax for England on November 10, 1941. There he trained as a driver mechanic (tank) and was promoted to Lance/Corporal, and later to Sergeant by the end of 1943. The 9th CAR (BCD) joined the 5th Canadian Armoured Division and moved to Italy in November 1943. He survived the breaching of the Gothic Line on August 31 and prepared to take Coriano Ridge. On September 4, 1944, a high explosive artillery shell landed near his tank while his crew was returning from a field kitchen with their supper. Crew Commander Sergeant David D. Smith died of shell wounds to his legs, arms and torso just five days before his 24th birthday. Trooper Gordon R. NIXON, from White Fox, Saskatchewan also died.
[Sinews of Steel, Dr. R. Roy, 1965; pgs 313-314]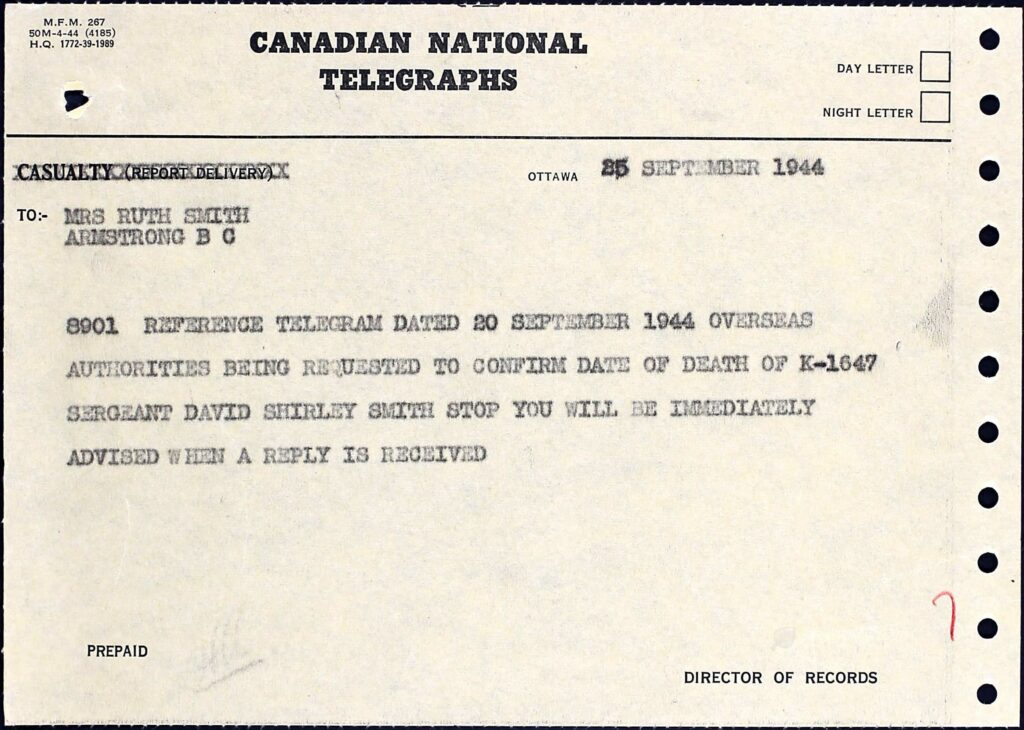 Douglas Harold BURR's service file has five letters of reference describing an intelligent, stable, keen and athletic young man that would do well in the Air Force. Born in Victoria on September 26, 1915, to Frederick and Mary Violet Burr, he grew up in Kelowna, completing 11 grades in school. He worked for five years at the Empress Theatre, writing ads, doing signwriting and displays as the Assistant Manager. He enlisted in the British Columbia Dragoons (Reserve) in July 1940 and enjoyed swimming, skiing and rowing. He enlisted in the Royal Canadian Air Force as an Aircraftman (2) [J10294] at 19 years old on April 15, 1941. He met his wife, Euphemia Marquis Campbell, while training at Saskatoon and they married on October 9, 1942. By 1944, he was Flight Lieutenant (Pilot) [R1013442] and working as a flying instructor at #6 Elementary Flying Training School at Prince Albert, Sk. While many associate aerial combat and bomber missions with Air Force deaths, training had its risk, too. 29-year-old Douglas was working with Leading Aircraftman (Pilot) Elmer S. Beingsessner, of Brant, Alberta, when their Cornell airplane crashed a few miles from the Prince Albert aerodrome, killing them on June 17, 1944. Douglas is buried in the Kelowna Cemetery.
[They Shall Not Grow Old, A Book of Remembrance, L. Hayward, 1991; pgs. 42, 90]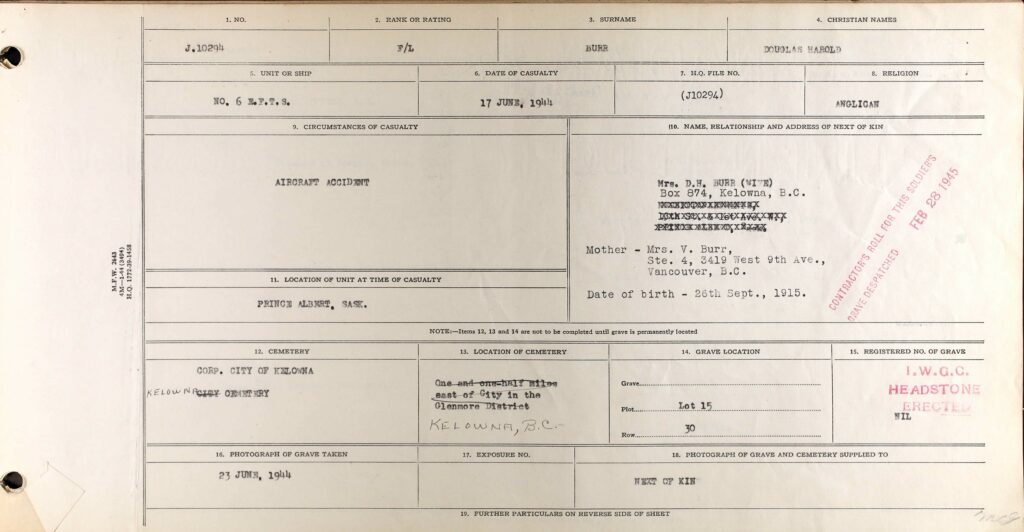 Digital reproductions of historic photographs are available and they make wonderful souvenirs and gifts! Ask us about the many options for ordering digital reproductions.