Frank Arthur Cherry was 4th child of seven by Winnifred A. (nee Jones) and Herbert Cherry; born in Prince Albert, Sk. April 28, 1924; grade 8 education; lived 3 yrs in Penticton employed as a sawmill planer or mill hand for Lear Planing Mill Ltd., Penticton; Frank enlisted in the 1st Battalion, Canadian Scottish Regiment, in Penticton on July 9, 1940, and proceeded through training and deployment to England until the events of D-Day June 6, 1944. He was charged 13 times for misdemeanours prior to D-Day. He was promoted to Lance/Corporal on June 10, Acting/Corporal on the same date, Acting/Sergeant on November 3, and reverted back to Corporal on December 2, 1944, by his own choice. He fought as a Universal Carrier driver/rifleman in A Company through the Normandy campaign and C Company in the Netherlands in 1945. The unit endured four major operations, starting with the D-Day landings, then the intense battles to hold German troops in Normandy until envelopment in August. He was with them when they laid siege to Boulogne and Calais and the clearing of the Scheldt Estuary in the fall and winter of 1944.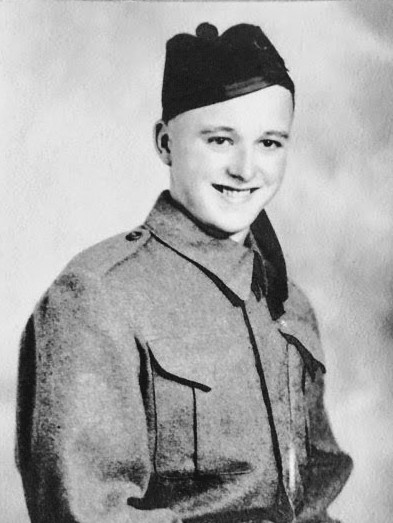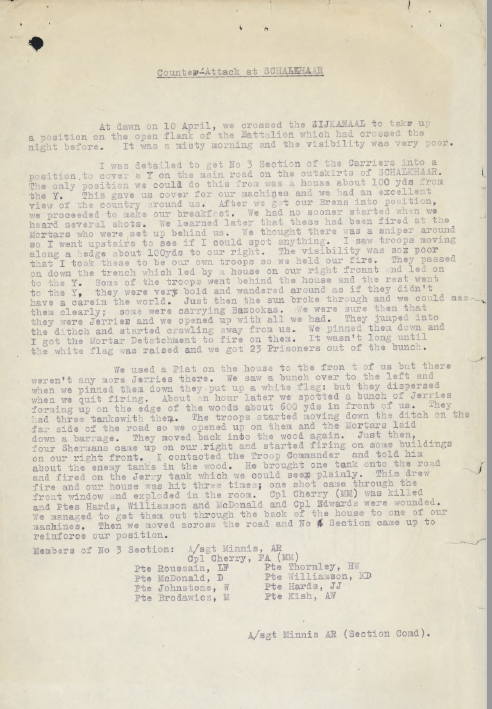 Frank was awarded the Military Medal "for gallant and distinguished conduct in the field," as recorded in the Canadian Gazette 45, 4/11/44 pg. 4632, however, there is no mention of a specific action in the unit's War Diary. He was killed during action at Deventer/Schalkhaar, Netherlands defending a crossroads, April 10, 1945, aged 21, and is buried in the Holten Canadian War Cemetery. He is remembered on the Penticton Cenotaph.
Frank's father, Herbert Cherry # 204883, was a FWW 96trh Battalion vet with the service in England. Two of his brothers were in uniform during the SWW and post war service: Grant Herbert 1921-2002 Sgt RCA SK 25532 CD in 1952; Gerald Ernest 1922-2003 Sgt RCA SK 13132 CD.
Sources

1] Ancestry.ca
2] 1st CSR WD April 1944 APP #9 lac 011382296