In our first article, Push On, the circumstances of the capture of the trophy machine gun were reviewed. This time, some of the features of the gun itself will be reviewed.
What is a trophy?
Anything that represents evidence of victory, valor, skill or achievement taken in war or competition as a memento or memorial.

Dictionary.com
Capturing the regimental battle flag of an infantry or cavalry unit, called the Colours or Guidon, during battle was demoralizing to the unit that failed to defend their honour. It was a morale booster for the victor that could boast of their skill to their peers and the vanquished. The capture of artillery pieces of various sizes, from machine guns to mortars to large guns and howitzers had the same effect during the First World War. For a Commander, losing his guns was a disgrace indicative of a failure of command and control of troops and resources. To the captors, it validated their fighting spirit, leadership, and tactics as well as being tinged with luck, too.
The captured MG 08/15, serial 989 made by Gewehrfabrik Erfurt, serves those purposes to the British Columbia Dragoons of the Okanagan who perpetuate the service of the 2nd Canadian Mounted Rifles (British Columbia Horse) [2CMRs] during the First World War.  Its relevance today is that a unit rose to the challenges of battle against a formidable foe with devastating weaponry.  The trophy memorializes the blood spent by comrades in arms, and the initiative and drive of leaders of all ranks to achieve their goal.  It's also an example of fascinating technology.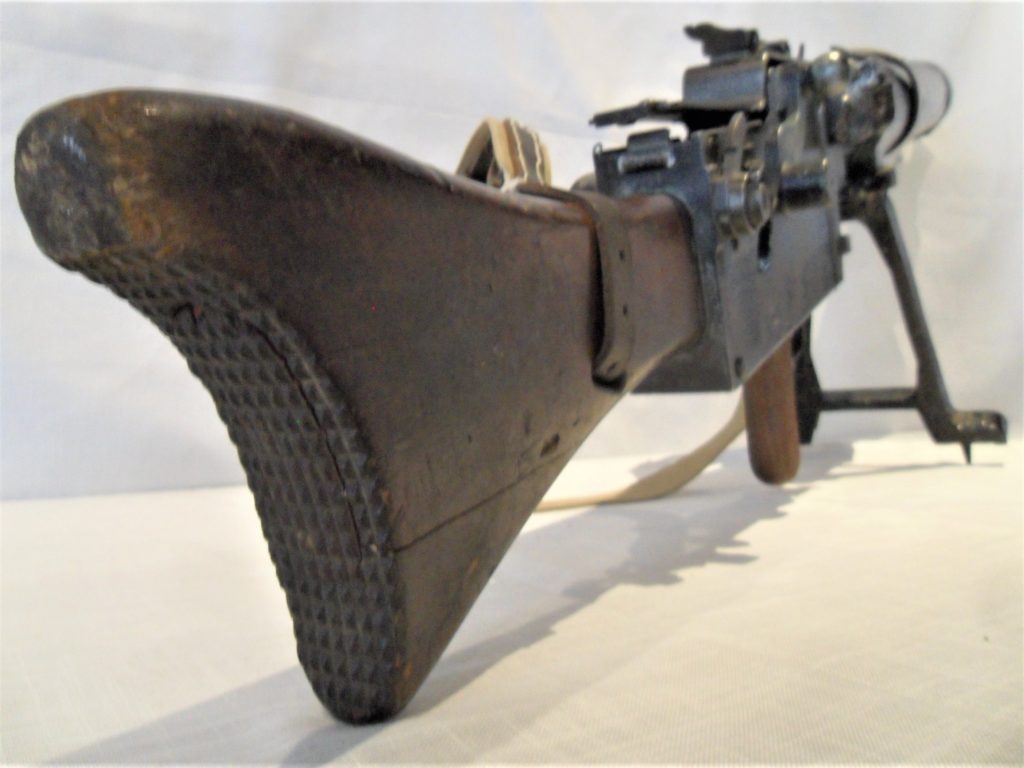 Much has been written about Hiram Maxim's design of the 1884 Maxim Gun and its variants, including videos online such as C&Rsenal small arms of WWI Primer MG08/15 on their YouTube channel. Its contemporary was the British Lewis gun.  Some of the features of our specific gun are derived from the larger, heavier Maschinengewehre 08 or MG 08 that was mounted on a sled mount and manned by a crew of 5 men.  It could fire continuously at a rate of up to 400 rounds a minute launching bullets to a practical range of 2,000 meters and an extreme range of 3,500 meters.  Being used in a relatively fixed position within the extensive trench works, it was cumbersome to move with advancing troops.   
Both sides realized a lighter but powerful gun that could move with the troops was needed. We have an example of an air-cooled Lewis machine gun used by Canadians for that purpose. Now, we have the German equivalent. The MG 08/15 uses many of the same design features and components of the larger MG 08 such as the water-cooled barrel, operating mechanism, toggle-lock bolt, cloth belts and ammunition. However, it reduced overall weight with thinner receiver side walls, smaller capacity water jacket, and a bipod, shoulder stock, and sling in place of the heavy sled mount. The gun incorporated a new recoil booster and flash-hider on the muzzle of the barrel. It still weighed a respectable 19 kg [42 lbs.] with a full 3 liter water jacket. The crew was reduced to 3 men using 100 round belts in drums mounted to the side or 250 round belts in an adjacent box. Standard sized water can, ammo box and maintenance kit were issued with each gun type.
The Gunner, in the prone position or standing in a foxhole, could tuck the shoulder stock into his shoulder, grip the pistol grip under the gun and swing the gun across a wide arc of fire on the bipod to devastating effect on enemy troops.
Other interesting features were the standardized water cans and ammunition boxes with their flush-mounted handles and recessed latches for easy bulk transport, and fold-out handles so a man could carry 2 cans or boxes with each hand. That's 6 liters of water or 500 rounds! They even designed a 2 wheeled hand cart gun carriage that carried the ammunition, water and maintenance kits with the gun mounted on top, ready to fire.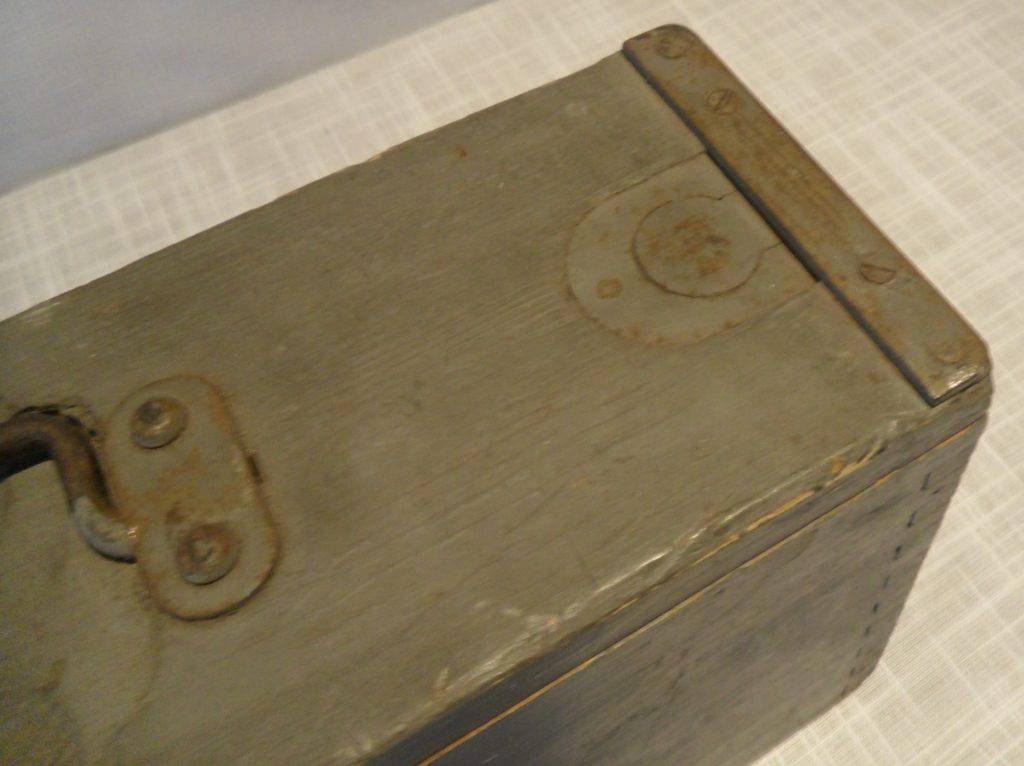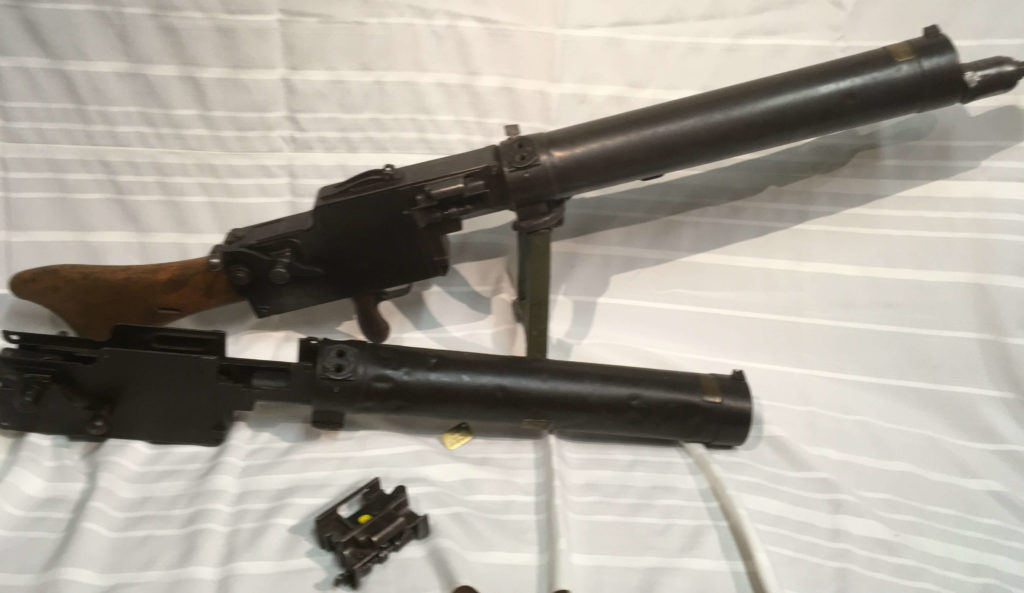 Between September 1916 and October 1918, the 2CMRs captured 121 MGs 08/15 but only two have returned to the British Columbia Dragoons.  
Digital reproductions of historic photographs are available and they make wonderful souvenirs and gifts! Ask us about the many options for ordering digital reproductions.